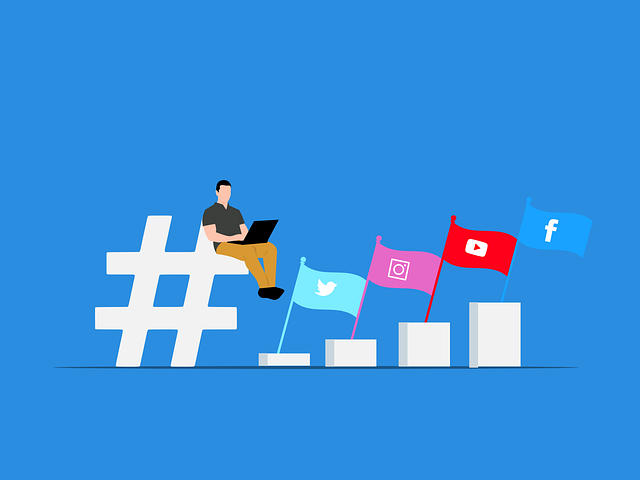 How Hashtags Pose As Powerful Business Tools Across Social Media
Remember the game tic tac toe? The crosses and the circles we used to draw tactically in a grid, and the 1st person to complete three respective signs diagonally or straight wins the game. But who knew that the 'grid' symbol could become something so much intrinsic in our lives? We are talking about the mighty Hashtags that have given Social Media Marketing and Digital Marketing Strategies a new dimension.
Hashtags are synonymous with social media conversations and trends that use phrases, keywords, and random sentences that track users' topics of interest.
Where did it all begin?
In the year 1988, hashtag was initially used as a categorizing aspect by the Internet Relay Chat. Until around 2007, the hashtag was then used by Google's Chris Messina for classifying tweets in categories. Later in 2009, Twitter adopted hashtags as its way of identifying the trending topics by hyperlinking. The first ever hashtag was #FF denoting First Friday. Then in 2013, LinkedIN and Facebook added hashtag to their social media mediums for tracking topics of conversation. Today hashtags are intensively used as a great Social Media Marketing Strategy for other platforms:
It goes without saying that Hashtags are now an intrinsic part of our Social Media Culture
Hashtags In Social Media – Usage
Whether you are posting anything personal or of business, about a trip or about a service or a products, or even want to start a conversation with your target audience, you can create relatable hashtags in just three following simple steps:
Write words or phrases without any space between the alphabets.
Do not use any punctuation.
Use the hashtag phrase anywhere in the post.
You can also use a relatable hashtag that is used by someone else.
Cross-prootional hashtags in Social Media is a wise tool for digital marketing. The users need to manipulate hashtags that will suit each platform or keywords so that when searched, the content stays at the top with relevance.
Hashtags Boost Social Media Engagement
Geotagging is one of the potent Social Media Marketing Tools that allows the posts to include a location. As per the research, posts that have geotags on the Instagram, receive nearly 79% more rate of engagement than the posts without. Using location hashtags can also amplify the audience rate of engagement. City names like #Kolkata #Delhi #Bangalore #Paris #NewYork #London etc. are some of the highest ranking examples.
In a study by HootSuite, it is seen that posts during Mondays have greater engagement than any other days of the week because of the mass reliability. A post with the hashtag #MondayMorning. On Instagram, the same post will have a minimum of 50+ hashtags for creating higher engagement rate. And so, a post with Monday-related hashtags carry the probability of reoccurring on next week to reach more audience.
Hashtag For Effective Social Media Marketing
Hashtags are potent marketing tools that every business makes use of in their digital marketing endeavors. The campaign of Kitkat #HaveABreak represents the chocolate's brand even when its ads or posts are devoid of the name. It is needless to say that before Social Media KitKat had already garnered its popularity through successful campaigning of this tagline. With this hashtag, target audiences can contribute strongly in marketing campaigns.
Hashtags are important parts of SEO as they play a major role in the visibility boosting of posts for followers as well as non-followers of the brand. A non-following audience may not know your brand, but a well-optimized post enriched with relevant hashtags can steer your attention towards it. This is exactly how hashtags are relevant and influential in bringing traffic to the businesses.
Hashtags Are Also A Great Way Of Looking At The Competitors
Trending hashtags make great ways for seeing what the people are liking over social media. Hashtags easily reflect on the most posted, most talked about and the most engaging posts. This gives businesses an idea as to what the audiences are liking most and how they can attract more followers. The main feed of Twitter is dedicated to highlighting the trending hashtag. This hashtag pane is personalized based on what the users are following and where they are based out of. Reoccurring trending hashtags lie #TBT or #ThrowBackThursday, #TGIF or #ThankGodItsFriday, ##PhotoOfTheDay focus on traveling, eating out, hanging out, fitness, fashion, entertainment etc. Other amazing examples are #VacationModeOn #Vacation #Holidays #TravelBlog #Explore etc.
Hashtag can be looked upon as 'social listening' tools that can easily monitor your competitors and what they are doing on social media to woo their audiences for fetching the maximum engagement. This, in fact, is an amazing Social Media Campaigning Strategy that is used by businesses today predominantly.
Tracking Hashtags
Hashtag tracking is exactly what it implies. It enables businesses to find what relevant hashtags can work for the social media strategy that can rake in the maximum engagement. The companies can figure out these hashtags for suiting individual platforms by identifying the correct ones that work.
Hashtag tracking tools evaluate analytically and give insight on how the hashtag is performing on the social media platform and also highlighting which ones are the perfect to make the upcoming posts trend-worthy. Here's a small list of the best hashtag analysis tools:
Tagboard.com: This provides an image of how the used hashtags are being used across the social media platforms and also show the relevant hashtags linked with the search conducted for the post.
Talkwalker.com: A paid analytics tool allows the user to track mentions across all the social media channels, tracking campaigns, trending topics, and competitors' hashtags.
Semrush.com: This is one of the most popular SEO tools that allows users for allowing users to monitor rankings and also changes of the competitors' keywords.
Socialblade.com: This tool assesses the follower counts on various social media platforms like Instagram, YouTube, Twitter, etc.
Phlanx.com: This tool is an engagement calculator of YouTube, Facebook and Instagram, which has access to an Influencer Dictionary.
Sproutsocial.com: This tool tracks the competitors' posts on Instagram, Twitter, and Facebook and comparing those with the user's posts.
Ritetag.com: This tool gives hashtag suggestions for Twitter, Instagram, and Facebook, live.
Hashtagiify.me: This tool allows the users to conduct numerous keywords in Instagram, Twitter and also reflects on the top influencers.
Tweetbinder.com: This tool allows to monitor hashtags on Instagram and Twitter and also produces analytical reports that gives light on the effect of media campaign.
Hashtag Is The Brand's Powerful Social Media Source
Yes, hashtags are definitely a powerful way of showcasing products, but brands have to be immensely careful while they are choosing the words and keyphrases. Hashtags are closer to being search words of the search engines, so it is important for the brands to make use of the right words so that the search intends to reach a larger base of audiences. We are living in the social media powered era where hashtag is a pillar of success. Customers follow the hashtag trends for searching their products or services of interest on the internet. Keeping these practices in mind, the brands have to target the best possible ways for using hashtags.
Conclusion
Along with various kinds of marketing too, hashtags too are constantly thriving. A well-planned strategy of social media marketing can show tremendous growth for the brands.